Strength and Durability of Wooden Rings
Wooden Rings Care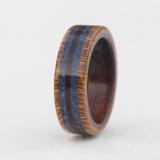 Over the ten years of making wooden rings we have thoroughly tried and tested our wooden rings by putting them through everyday wearing conditions to extreme conditions and found them to be tough and reliable. Where necessary we have taken on board customer feedback and incorporated this experience into our design technique.
The most frequently asked question for us is, just how strong are wooden rings? Wooden rings are not as strong as gold, titanium or silver rings, however with some simple care procedures a wooden ring can last for many years, in fact we have had a customer who returned an original ring to us for re-polishing after nearly ten years of loving use.
Our unique style of making wooden rings and their intricate design requires that we incorporate a variety of construction methods, allowing us to retain an organic and natural charm whilst focussing on strength and durability. Our method of construction allows us to use woods with historial interest, salvaged and windfall trees.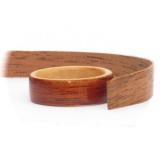 In our ten years of making wooden rings we have found the combination of using the bentwood method, combined with carved and multiple sections of laminated liners or vice versa, ensures that the grain of the wood is secure and strong in all directions.
We have found that there can be weaknesses in using one method alone, for example bentwood rings after time can split in the direction of the grain, however inserting a laminated liner with opposing grain can add even greater strength and allow greater movement in the wood ie expansion and contraction due to heat variation and humidity.
On some selected wooden rings we even add a micro layer of fibreglass which when infused with resin becomes invisible and unbelievably tough. We recently used this method on a wooden wedding ring for a water sports enthusiast who requested a ring which he could leave on whilst in the sea surfing. This is the same method used to build surfboards and yachts.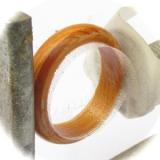 Unlike most bentwood ring makers we do not saturate and cocoon our rings with questionable superglue. We use a deep infusion resin which fills the pores which once carried life giving sap, helping the wood to retain some flexibility and cope better with sudden shock. We then apply 10 to 15 coats of hardwearing maintenance free lacquer to further enhance the beauty of the wood and give ultimate protection.
If you are considering, or interested in commissioning wooden wedding rings or wooden engagement rings or a gift for a 5th wedding anniversary, our 25 years of fine wood working and complete understanding and knowledge of just how wood works can give you the confidence to invest in our craftsmanship.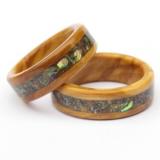 As with any manufacturing process and business we like to keep an eye on what is happening around the world within our sector, what's new and what people are talking about. Having been making wooden rings for the best part of ten years now we are more than aware of the ever increasing standards that our customers expect and require.
Here at The Wood Hut we absolutely love making wooden rings and are forever striving for perfection. We are open to innovation and suggestion and enjoy a close relationship with you the customer throughout the whole process of making your wooden rings.
Having been a cabinet maker for 30 years, I have used probably every conceivable method, skill, craft and tool to achieve the best possible results. Possibly my time spent as a guitar maker ( luthier ) was perhaps the most demanding with the high degree of accuracy and finish required and then as a boat builder which undoubtedly opened up the possibilities of bending wood.
In the development of our wooden rings I have brought together all of my skills in carving, turning and bending wood and feel this has resulted in wooden rings with real organic charm and style that stand out as unique and contemporary wooden jewellery to be treasured .
With the ever increasing popularity of wooden rings as wedding bands or purely an alternative to metal rings I feel it is important to remind our customers that whether you are spending two or three hundred dollars from a website claiming to have almost indestructible wood rings or whether from our range of tried and tested wooden rings, one thing must be remembered - that wooden rings need to be treated with care.
Our testimonials are a great indicator as to the reliability of our wooden rings and the after sales care service we offer can put your mind at ease over the longevity of your ring. We are always happy to re-polish or repair if you have a mishap and in most cases we only require that you cover the return postage. We have of late seen a number of wooden rings arrive at the workshop for repair which people have bought from overseas websites and we are more than happy to help out where possible.
E Gray
The Wood Hut