FAQ's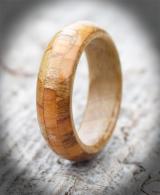 Why choose a wooden ring?
Our handcrafted wooden rings offer a real organic and earthy alternative to run-of-the-mill metal rings. They give a sense of being close to nature and stimulate all the senses, being wonderfully tactile and incredibly beautiful.
Wooden rings are surprisingly comfortable to wear and what better way to celebrate nature than to choose a unique ring made from wood.
How strong are wooden rings?
Naturally the rings I create are not as strong as metal rings but with a small amount of care they can give many years of pleasure. Each ring is individually handcrafted from carefully selected beautiful wood, with special attention paid to strength, durability and of course the grain and patternation.
We advise that you avoid contact with water or moisture and that you avoid sudden shock or impact. Regular applications of clear beeswax will give added protection and strength.
We are proud to offer a one year warranty on all our rings, as long as the 'Care Instructions' have been adhered to. Our warranty does not cover accidental breakage eg fingers caught in door or whilst taking part in sporting activities or tightly gripping and carrying heavy items.
Please note that evidence of poor care for your wooden ring (eg water/ moisture damage) will invalidate this warranty.
We also offer a re-finishing service, meaning that if you scratch your ring or notice that the protective coating is wearing away, we can re-finish it for you - please contact us to discuss.
Please note that we recommend the same care procedure for wooden rings with titanium cores, as for rings made completely from wood.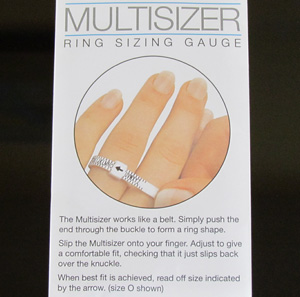 How are the wooden rings sized?
We recommend that your ring size is measured carefully by a professional jeweller (two sizings if possible) before you place your order as our rings are made to internationally recognised sizes.(A to Z including half sizes). We now stock wooden ring sizing gauges that we can send out to you. Make sure if measuring for one of our wider band rings (8/9mm) that the measurement accounts for the additional width, and allows for the whole width of the ring to sit comfortably on the finger and pass easily over the knuckle when removing to wash hands etc.
What if my ring is the wrong fit?
If you find that your finished ring is not quite your desired fit, we can usually adjust the size slightly to suit. We offer this service at a flat rate of £20 per ring resized. We would also ask you to bear the cost of postage - we recommend that your ring is returned via a 'signed for' service in its original box or similar protective packaging, as we cannot be held responsible for loss or damage in transit.
Please note however that in the case of rings that are more than half a UK size too large the ring would have to be re-made at your cost. Rings that are too small can usually be re-sized by up to one UK size but in some cases may have to be re-made at your cost, depending on the original thickness of the ring.)
Please note that in the case of rings with an inscription, a flat charge of £5.00 will be made to re-apply the inscription once the ring is re-sized. In some instances we may be unable to re-apply the inscription after re-sizing.
There is no resizing option for metal (titanium) rings. If a wrong sized metal ring is ordered a new ring will have to be made at the customer's cost.
We do not offer any warranty on resized rings.
Finally......
Our wooden rings are supplied in a presentation box with care instructions included and would make an ideal gift for a 5th wedding anniversary or any occasion. Please remember that each ring is individually handcrafted and is therefore totally unique. If desired, a small inscription eg initials or a date can sometimes be burnt into the inside of the ring to add a personal touch - individual ring descriptions advise whether this is possible or not. We charge 50p per character, up to a maximum of 8 characters.