Personalisation of our handcrafted wooden rings
We want to help you add the finishing touch to your special wooden wedding ring with a lovely personalised inscription.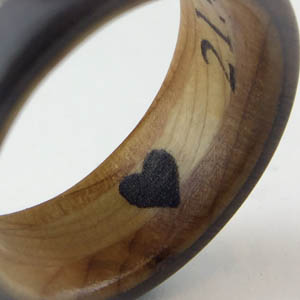 We are able to inscribe the inside of most of the wooden rings available on the website, however the rings made from lighter woods or that have a light wood liner show the inscriptions, which are done by way of wood burning (pyrography), off to their full potential.
When choosing one of our rings with a personalised inscription in mind please note we can only fit a short inscription, for example initials or a date or small symbol.
The price for each inscription is calculated automatically when entering it into the inscription option box. Each character or a heart symbol for example will cost 50p. We have limited the number of characters to 15 on most of our wooden rings. If you have a specific symbol or design you would like us to try and burn into your ring, please feel free to get in touch.