See what's new from The Wood Hut summer 2016
Wedding rings with Lapis Lazuli gemstone to the USA, 5th Anniversary ring on its way to New Zealand, 5000 year old Irish wood engagement ring and a storm battered Larch tree ring.
We have had some fantastic commissions this month to keep the creative juices flowing, coupled with the ever expanding market place with our wooden rings reaching the furthest corners of the globe.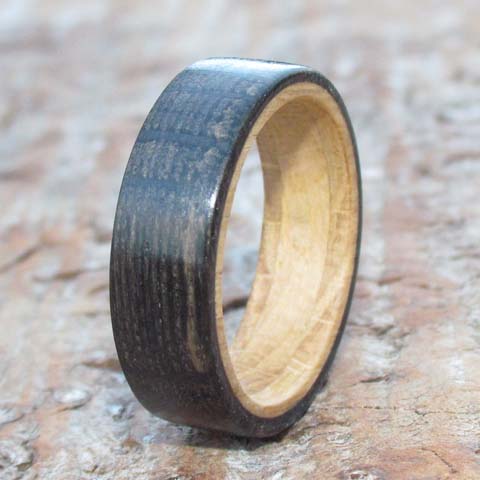 Just dispatched to Auckland New Zealand was one of our Bog Oak rings. Our customer wanted something with Irish provenance to give to her husband to celebrate their 5th Wedding Anniversary. Coincidently we have a good friend in Donegal, Ireland who has been kind enough to source and send us a few logs of 5000 year old Bog Oak which we were able to incorporate into this beautiful natural looking ring.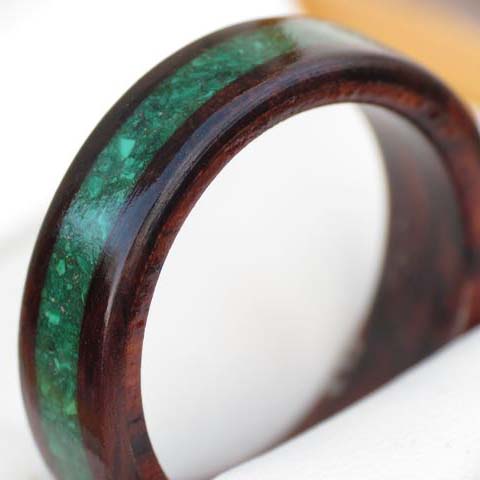 In comparison this stunning Rosewood and Malachite ring has gone on a short hop across the North Sea to Norway, intended for a proposal of marriage. We did have a challenge in determining the correct size for Jon which finally involved the prospective mother in law ascertaining her daughters ring size. Pleased to say the engagement is now official and the ring fitted perfectly.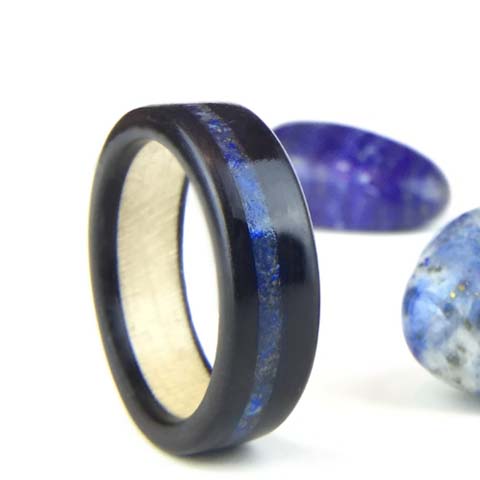 Earlier this month I was commissioned to make a wooden wedding ring from Ebony with a narrow off centre band of vibrant Lapis Lazuli and the secret internal section of the ring was made from creamy white Holly from Scotland. We had a tight schedule on this order and thankfully the international tracked and signed for service delivered on time to the picturesque town of Nevada City, California.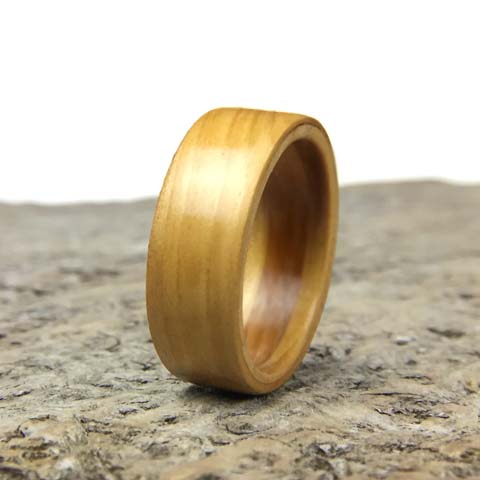 This July a customer gave me carte blanche to design a bentwood ring, with the only remit being, the wood should be eco friendly. Immediately a tree high on our mountain side sprung to mind, an ancient Larch tree which is constantly ravaged by high winds and on occasions offers up one of its branches. I steam bent very thin strips of this wood and then wrapped them around a multi direction grained internal liner. The result was this extremely tough beautiful golden design.

If you are overseas and thinking of ordering one of our wooden rings either for an engagement, wedding or to celebrate an anniversary please bear in mind delivery times, from point of completion of your ring can take from 5 to 10 days depending on where you are.
Facebook is a great way to connect with people worldwide. To share ideas and be inspired by their stories, join our journey and our love for wood craft.