Bog Oak Rings
Wooden rings made from ancient Irish Bog Oak
New for Wooden Rings 2015 is our Irish Bog Oak which we are able to incorporate into many of our designs. We are able to handcraft solid carved wooden rings or Bog Oak rings in the bentwood style.
Bog Oak is wood which is in the primary condition of fossilisation ranging from 1000 to 9000 years old. If left for hundreds of thousands of years in deep boggy or clay like conditions, Bog Oak or any wood will eventually turn to coal.
The resulting timber has a wonderful natural ebonised staining which is highly prized in cabinet making and wooden jewellery.
Our Bog Oak, given its colour, is possibly between five to seven thousand years old and has been carefully dried to prevent cracking.
Featured are two wooden engagement rings commissioned specifically to incorporate Scottish Oak, Irish Bog Oak and inlaid with beautiful white sand from the island of Iona.
If you would like to commission a bespoke wooden wedding ring or a 5th wedding anniversary gift using our wonderful Irish Bog Oak please do not hesitate to contact us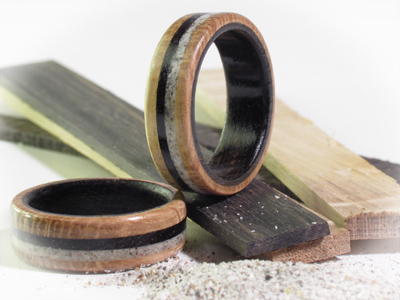 You will be amazed at what we can achieve with some strips of Bog Oak and some sand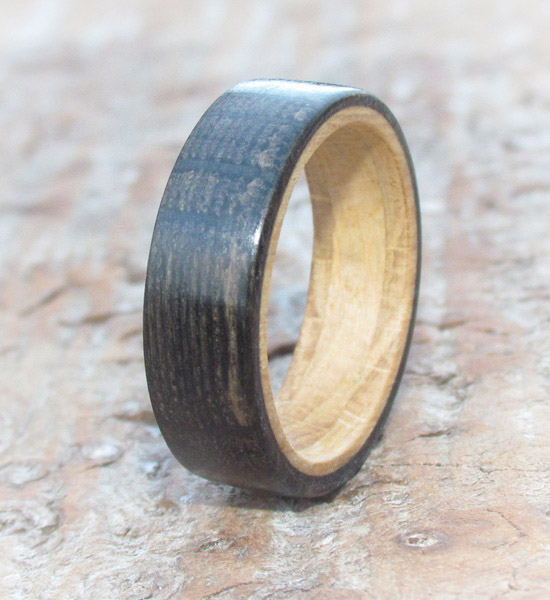 Our Bog Oak Ring incorporates New Scottish Oak. This gives beautiful contrast and superior strength to these wooden ings. Made to order in 3-5 working days and priced at £65
To find out more click on the image