Mens Wooden Wedding Rings
Lovely New Mens Wooden Wedding Ring Design For Autumn 2017
We have chosen three of our favourite UK timbers ,Scottish Oak, Walnut and Yew to create this slightly wider design which we think would make a stunning and unique mens wedding ring.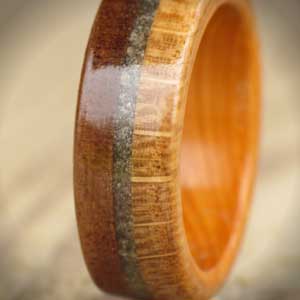 We have included the option for you to source and send us some of your own sand from a coastal beach which may have sentimental significance to you. We inlay the sand into a narrow central band separating the Oak and Walnut, which is then secured with an internal liner of our strong beautiful Yew tree wood.
These wedding bands measure 8mm wide and can be made to any UK A-Z and US 1-15 ring size. We can also accurately convert an internal diameter and an internal circumference measurement.
The finished ring can be personalised with your special wedding date burnt into the inside of the ring, we apply the inscriptions by hand using a wood burning tool.
Here at The Wood Hut we understand the importance of being unique and are flexible as to the design of this particular ring - if you would like us to combine wood from a favourite tree, Silver Birch, Holly or Ash for example, we are more than happy to discuss the working properties of the wood to see if it is suitable as a wooden wedding ring.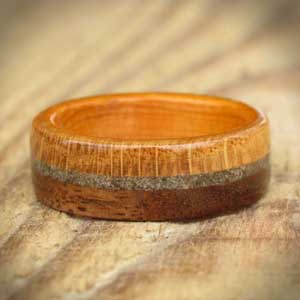 Please feel free to contact us to discuss your wedding ring specifications and sizes
Checkout our Facebook page to see previous customer wedding ring designs and the stories behind the creation of their rings, videos and other wooden jewellery https://www.facebook.com/thewoodhutwoodengifts/