Find Out The latest News And Offers On Our Wooden Rings
Showcasing our unique woodcraft through social media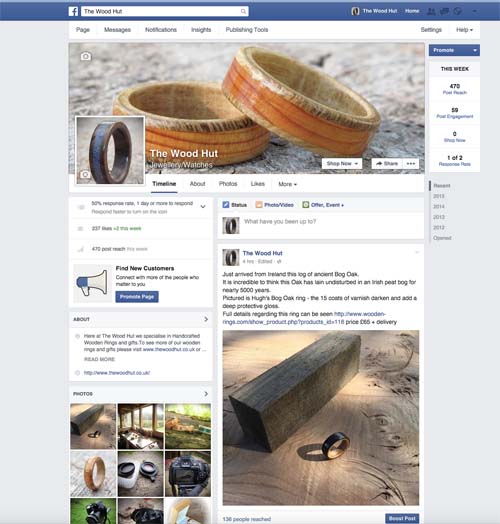 The Wood Hut has been connecting with customers and admirers of wooden rings through social media for some time now, however it seems that recently Facebook has become an important tool for us to showcase our wooden rings and give some interesting facts and insights into where the wood and materials used comes from.
All of our wooden rings have a unique story behind their commissioning and construction, from the sourcing of the timber, to the expeditions and lengths we go to to obtain materials such as sand and coral from the Western Isles. Facebook allows us to acknowledge and congratulate those celebrating weddings, anniversaries and engagements with our uniquely crafted wooden rings.
On our Facebook page you will also find our latest offers and news, as well as video tutorials on how we make some our wooden gifts and hundreds of photos from previous commissions.
We hope to give an insight into our woodcraft through vivid photography and a taste of life in our Highland workshop throughout the seasons.
If you have a custom wooden ring enquiry, or if you are just interested in the beautiful wooden gifts we make, get connected with us on Facebook.