Propose This Year With A Wooden Ring
2016 is a Leap Year, so why not pop the question with a beautiful wooden ring.

Of course its a leap year this year which means all you brave ladies who have almost given up waiting for your partners to propose can now, according to tradition, make the offer of marriage.
The roots of this tradition are quite difficult to trace back, but there are certainly historical stories from Scotland, Ireland and the Netherlands dating back to the 5th century AD. In Finland if a girl proposes on the 29th of February, it is believed to bring good luck.
For those who have strong eco responsible ethics and a desire to connect with nature the 2016 leap year presents a lovely opportunity for you to express your love and lifelong commitment with one of our wooden rings.
Our rings have a natural warmth and romantic aura. They are contemporary and stylish in appearance and lend themselves beautifully to this occasion, offering a unique and slightly different take on traditional engagement and wedding rings.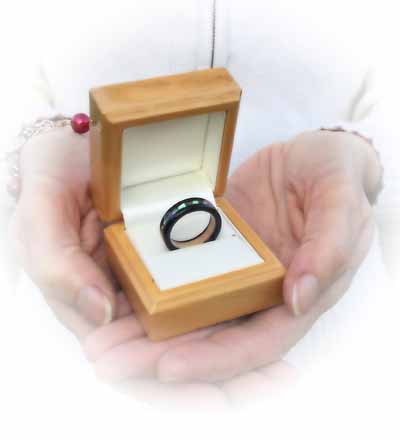 We would love to help you create your story from the conception and design of your ring to obtaining the correct size, through to presentation and personalisation.