5th Wedding Anniversary Traditional Gift Of Wood
Brief history of 5th wedding anniversary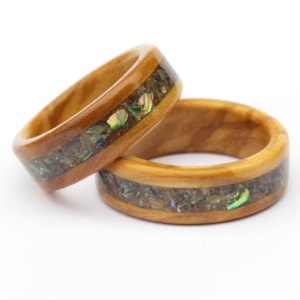 It has long been a tradition to celebrate a 5th wedding anniversary with a gift of wood in fact the roots of this can be traced back to Roman times. A piece of Oak was usually chosen as it represented strength, stability and longevity, all qualities required to help a marriage successfully flourish.
Although today Oak is still a favourite choice, many more woods are used to make handcrafted wooden gifts, such as Maple, Yew, Elm and Cherry all of which possess the strength and qualities which are said to be passed on to a marriage.
In today's high tech mass produced world where virtually everything is machine made, a handcrafted wooden gift is highly prized.
To keep this tradition alive let us put the creativity into your 5th wedding anniversary with one of our beautiful wooden rings.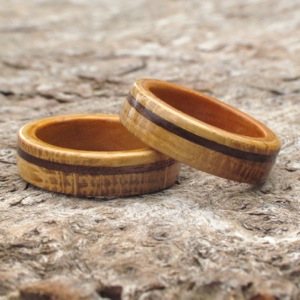 One of our most popular and traditional designs is our Oak, Walnut and Cherry ring featured below, which would make a beautiful choice to celebrate a wooden anniversary.
Back in March 2015 we introduced our Irish Bog Oak ring. This proved to be one of our most popular designs, specifically aimed at the 5th wedding anniversary. The lighter internal Oak lends itself beautifully for an anniversary inscription such as a date or name.
You can find this wooden ring and many more in our 5th wedding anniversary category, just click on the photo to see more.