Wooden Rings Gift Vouchers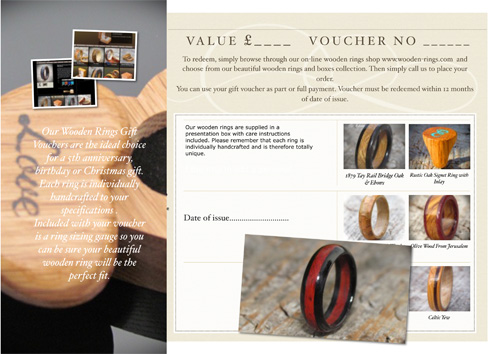 What could be more special than celebrating Christmas, a birthday or 5th wedding anniversary, with the gift of a individually handcrafted wooden ring, however it is not uncommon to not know the ring sizes of your friends or partners fingers even after five years of wedded bliss.
Ordering a voucher will undoubtedly solve that problem especially if time is running out to find that special wooden gift.
Also you will have the piece of mind that your partner or recipient will have the pleasure of choosing a totally unique beautiful wooden ring that they will cherish for life.
Included with your wooden rings voucher is an accurate ring sizing gauge so you can be sure your individually handcrafted wood ring will be the perfect fit
Please contact us to discuss your wooden ring voucher which we can prepare to your desired amount and dispatch immediately.